Feel safe and secure with your personally trained canines on patrol 24/7. All excel at keeping the bears off the property and your food off your table.
Buckwheat and Norma Jean are the eldest! Buck is a "Pyrador" – a Pyrenne x Labrador born in June, 2012.
The blonde bombshell, Norma Jean, was born a couple of months later and is a Golden Retriever x Yellow lab.
Buddy is a brown and white something, and baby Boo Boo is here from Jellystone to steal your pic a nic a basket.
There is a jar of complimentary earplugs in the washhouse for the occasional nights when they all become overachievers.
And then the family grew!  Happy, the pig, is dog#5.
They are all total thieves and food cannot be left unattended for a nanosecond. They can bark all night, open locked coolers, steal firewood and relocate shoes. Love them all to bits!!!!
Happy, President of the Toad Rock HOG Chapter.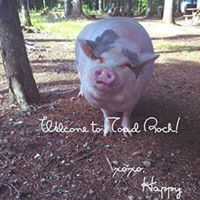 and then there is something about Mary……..