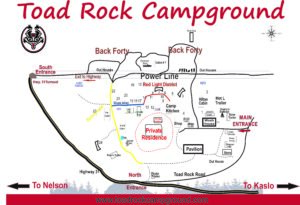 Click the map to open it up
Camp Fees:
$14.00 per person per night for groups of two or more people
$25.00 per night for single person
---
Other Accommodations:
All available beds are in a variety of cabins, trailers etc. that are VERY basic.
No plumbing. No electricity. Clean beds in dry spaces.
Way better than the last ditch you slept in!
1957 GMC Bus with double bed made up.
1974 VW Van with bed made up

Aside from old vehicles, we also have cabins and "glamping tents"
Double and single beds can be reconfigured to suit the needs of your group.