Camp Fees:
$15.00 per person per night for groups of two or more people
$20.00 per night for single person
---
Other Accommodations:
We are now offering the option of a one time charge of $10 for your bed to be made up for you. The $30/person/night fee still applies, and you have the choice to bring your own bedroll.
All available beds are in a variety of cabins, trailers etc. that are VERY basic.
It's a "Head in a bed" fee. $30 for any head in any bed.
No plumbing. No electricity.
Way better than the last ditch you slept in!
1957 GMC Bus with double bed made up.
1974 VW Van with bed made up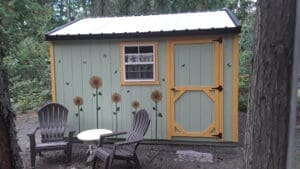 ---
Other Stuff:
Cut and dry firewood is available to purchase at $10.00 per bundle.
Ice at $4.00/bag, and a limited supply of coolers to use during your stay.
ALL PRICES AT TOAD ROCK INCLUDE THE OUTRAGEOUS TAXES
It's B.C., so Bring Cash. We are not set up for credit card payments at this time.
We're not big on rules but we do have guidelines. We have done road trips with kids and dogs, so kids and dogs are welcome guests. No point in making a big deal about what you can and can't do. We're all adults, we're all riders, and Mary is quick to let you know if she's getting pissed off.
Everything that happens at Toad Rock is based on personal experience. We'll make sure you have good hot coffee in the morning, and there is a cooler to store your cold refreshments for the end of the day. What happens in between is up to you and the road!
There is a fridge and BBQ at the camp kitchen situated out in the campground. Water and pops are also available.
We ask that you not feed the dogs at all since it creates mooches instead of pooches. Happy is the beer loving pig. Visually impaired and has tusks. Please give him a wide berth, and keep your beverages securely out of his reach.