Mary Laird has owned Toad Rock since 1974. The log house was built from trees on the property, and her sons were born and raised here. Grant Peterson rode his Harley out of the show room in 1977 and brings a wealth of knowledge from his years as a rider and his involvement in the restaurant and hotel business.
Every bit of Toad Rock is inspired by their personal experiences. With a passion for riding and camping, and friends and family camping out at Toad Rock from spring to fall, the development of a motorcycle campground was a natural.
It was planned to develop over the coming years, but the plan was moved along in 2003 with a rally for BCCOM and AIM. The event was a great success and Toad Rock stayed open for the rest of the season.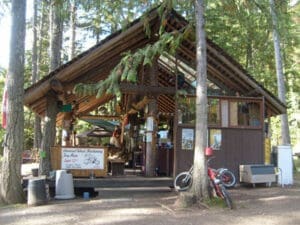 Then came the "social pavilion" which is supported by living trees, and with it's pool table, kitchen area, and morning coffee; it is the gathering place for the campers.
The wash house was completed in 2004. It is set back near the campsites, and provides hot showers, flush toilets, and laundry facilities.
It is Grant and Mary's personal goal to bring people together and dismiss preconceived notions of stereotypes – starting with the basics of non-gender specific bathrooms!
None of this could have been accomplished without the help of MANY friends. You know who you are – and you know how much your support has been appreciated!
The operation of the campground is based on the honour system. You are trusted and respected – because Toad Rock has the world's best campers!